The owners Daniel and Maegan,  like to meet each new doggie parent and if you'd like a tour they give tours personally so the tours are done by appointment, though Tours are not required to board your furry kid or enroll them in daycare. You will meet them on your pups safety screening day. We also provided lots of pictures both on our website and Facebook.
 Let your furry kids vacation be a Unique quiet comfortable experience in The Quiet Comfort of the Mendon Hills where the Antonellis Family lives on site. Their doggie chalet just feet from the main house.The chalet Leaves you with the Feeling of an Italian Bistro in the Hills of San Donato Italy 
The Furry Guests are provided a:
> Temperature controlled sleeping area
> More supervised playtime than anyplace around.
> Raised beds
> Fresh Bedding
> Vaulted ceilings
> Comfortable Dimmable mood lighting and rope lighting surround the sleeping Area
> Fresh Filtered water at all times
> Classical music serenade the guests
> A Big screen TV for Family friendly movies
> The Fresh Air UV System provides clean Air that circulates over Two UV air filters 17 times an hour
> Personal Outdoor Covered Patios to bask in the sun when not in supervised group play
> Daily housekeeping
> Meals prepared twice daily
> Story Time, Treats, biscuits, and Kong treats upon request
> Baths and Spa Baths are available
> Love and personal attention
 Tours are not required, though available.
Email or call to book your furry kids Boarding or Daycare reservations today. Don't hesitate because rooms book up fast.
Why Tours in Advance or Virtual Tours?
Our main focus is on the wonderful furry guests in our care. To provide a tour and promote our GREAT place, we have to focus our attention to our human visitors and this takes away from the attention we are giving to our furry guests. Many places are trying to get as many people through their doors as possible and that can lead to less than great personal care for the pups. We are a small and personal operation and we are very selective about the furry ones that come to stay with us. Therefore, we want to be sure that they all play together safely and are happy overnight. We are not in the business of getting everyone through our doors and we do not promote the "Drop the dog at the kennel" situation. Your pups vacation with us is meant to be a fun and enjoyable stay. We do fill up quick, so don't hesitate to book your pups reservation in advance! 
Tours at all hours and all times can also be very disruptive to the pups currently napping or playing. This can be very stressful to some pups and overly exciting to others, making for a very loud and uncomfortable environment- kind of like your typical kennel situation. We find it best to limit our tour schedule so that we provide the best and healthiest care to our guests. We do NOT do tours during "Peak Times", or holidays, or holiday weekends. 
Our Doggie Hotel tends to be a super fun and quiet place. Can you imagine how you would feel if people were constantly coming and going while you were resting or playing on your vacation! It would make for a less than enjoyable vacation experience.
97 Millville Rd. Mendon, MA 01756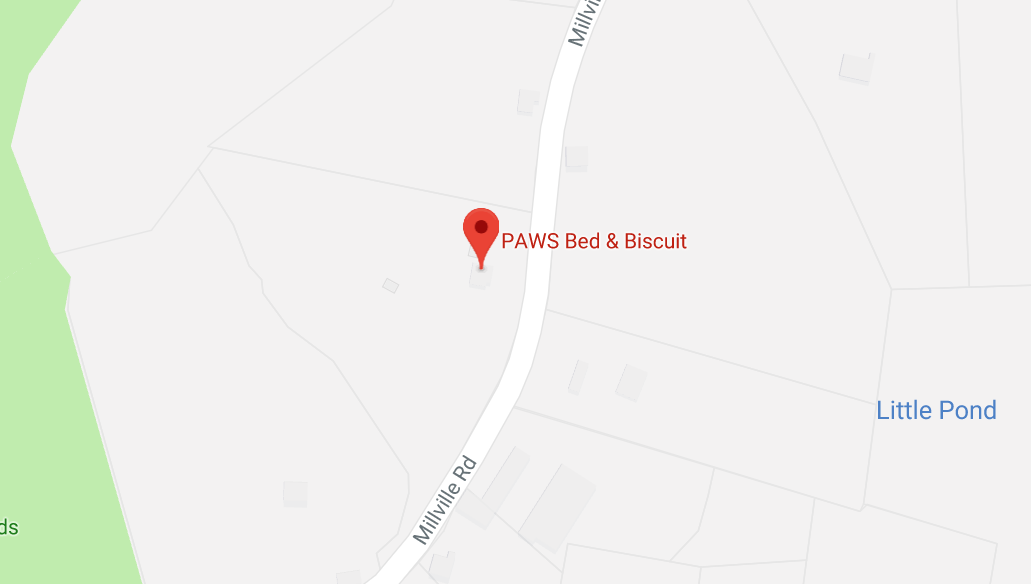 Weekday hours
Morning Drop-Off/Pick-Up Times: 7am-9am
Evening Pick Up Times: 4pm-6pm
Saturday Hours
Morning Drop-Off/Pick-Up Times: 9am-10am
Evening Pick Up Times: 4pm-5pm
Sunday Hours
Morning Drop-Off/Pick-Up Times: 10am-11am
Evening Pick Up Times: 5pm-6pm