We do not charge for daycare while your pet is boarding. HUGE VALUE that other places charge additional. We do not charge for daycare in addition to boarding. Daycare is included with Boarding.
Our Environment
We offer your pet the serenity and comfort of a beautifully landscaped, hillside chalet with an emphasis on personal care. It's truly the prettiest place around and it's in a warm and quiet environment.
We have a super clean, homey environment! We use a safe, environmentally friendly, biodegradable disinfectant. This is the best for killing pathogens, including those missed by most targeted disinfectants. Specifically, it targets parvovirus, bordetella, giardia, calicivirus, ecoli. In addition, it also kills and prevents the growth of algae and mold.  It is safe for direct contact immediately after application, without any chemical burns like bleach and other harsh commercial disinfectants.
Around-the-clock soothing stereo plays as part of our serene atmosphere. For additional comfort, we provide dimmable lighting. We are a far cry from the loud, large, cold atmospheres you may encounter. Don't let your furry f1amily member get lost with those big places or the foreign franchises. Our emphasis is on comfort and care.
Playtime
Our Guests PLAY ALL DAY. We give more supervised group playtime than ANY place around.  Unlike other places, we INCLUDE PLAYTIME. In contrast, other places charge extra for just 20-60 minutes of group playtime. In some cases, you find this out last minute when they hand you the bill, or they just don't get any playtime at all.
Our Supervised Daylong Doggie Playgroups are divided to place "Furry Guests" of similar sizes and personalities together. Playtime is ALWAYS supervised and great care is taken to provide breed specific attention. Safety and fun are TOP Priority! All new boarding guests are screened before their first boarding date. 
Group playtime in our large play yards is included with boarding! In addition, we offer individual play time. Check out our play yard video on the Doggie DayCare page or our variety of videos on our Facebook page!
High Standards
At PAWS Bed & Biscuit, we use an Advanced 24 hour Air Purification system, like you may only find in a human hospital. PetAirapy's researched, tested, and study-backed UV systems have been shown to kill more than 99.96% of virus and bacterial pathogens. The Germicidal Ultraviolet produced by the PetAirapy System penetrates the cell walls of any Viruses and Bacteria present in the air. As a result, cells are killed or damaged to the point that they cannot reproduce which reduces animal to animal transmission of viruses and bacteria.
Tested viruses include SARS CoV 2 (the coronavirus that causes COVID 19), and covered the spectrum of hardiness in the environment and satisfied six key factors to meet all combination for viruses.
Benefits
We are the "Little Guy",  so our guests get LOADS of personal attention. We are not one of these new warehouse franchises with lots of nice, but unknown teenagers coming or going. It's just our little family caring for your pet, and you are not funding a giant overseas business. Instead, you are helping us support the community where we all live.
It's MUCH more fun and MUCH SAFER than being trapped at home where emergencies such as break ins can occur.  On top of that, it is MUCH SAFER than trusting the neighbors kids, and MUCH more fun than staying with a relative. You will never have to worry about them being forgotten by a care taker, or left alone by themselves. 
Veterinarians use us for their own personal pet boarding.
Doggie Guest House
Our Doggie Guest House has LOTS of natural sunlight and each guest has their own large, outdoor patio to enjoy when not playing with their friends. Most of their stay will be spent playing with other furry friends in supervised group playtime. 
We provide large, indoor climate controlled suites, each with a large individual outdoor patio for relaxation and outdoor exercise. We have both central heat in the winter and central air-conditioning in the summer. In addition, we provide fresh bedding, comfortable raised beds, daily housekeeping, and LOTS of love and attention. Our guests are given fresh filtered water at all times. We play night time movies and classical music for our guests.
Security and Fire Systems also monitor our Doggie Hotel 24 hours a day, seven days a week, we have ADT, along with baby monitors. Your pup will be safe, along with receiving lots of love, attention and pampering.
Additional Details
You are more than welcome to bring your own food, we recommend it. There are no extra fees associated with bringing your own food, unless special prep is involved. 
Prescribed medications will be given to your pet per your instructions at no charge. Please call ahead to discuss.
Loads of loving care and attention
Over 26 years experience in the field
Optional play interaction that builds positive social behavior, relieves stress, alleviate boredom, and increases social skills

 

Good behavior and manners are consistently promoted
Peace of mind knowing that your dog is safe and happy while you are away
A stress free and fun environment ensured by a limited number of dogs and continuous play of soft music.
A La Carte Boarding Services
Greenie on Your Pillow -$4.00 -Greenie provided by PAWS
Kong Treat -$4.00 -Kong is provided by PAWS
Ice cream Treat – $5.00 -Treat is provided by PAWS
Story Time -$8.00
Story Time with Photo –  $35.00
Nature Walk (weather dependent 15 minutes) -$12.00
Tooth Brushing -$5.00
Brush Out with Boarding -$15.00
 30 Minute Massage -$40.00
Boarding Enrollment Requirements
To ensure the safety of every one in our Boarding Hotel the following criteria are required…
Requirements
We require that all boarding guests be screened for safety and comfort before their stay.
Age: We do accept puppies if they are current on vaccines

All Female Guests must be spayed by 6 months of age.

 

When they begin their first heat cycle (6 months old)

 

they cannot attend. Once they are in heat they will need to be spayed before coming to play.

All pups must be neutered by 12 months old.
NO excessive humpers or markers. Excessive humping causes dog fights. We do our best to promote a clean and stress-free play environment for ALL our guests.
Vaccinations
All Guests must be current on the following vaccinations, titers are not accepted
Vaccinations: All dogs must be current on the following vaccinations, and Veterinary documentation is required prior to the first day of day care and boarding.
Rabies -as REQUIRED by law
Distemper Booster (DHLPP)
Bordetella (Canine Cough) – every 6 months.
Yearly Stool Check required
Every 6 month Stool check and Giardia test if visiting a dog park
Please get the Canine Flu vaccine if it is available from your veterinarian
If your dog is receiving the Bordetella vaccine for the first time, a minimum grace period of 10 days is required before Boarding or Daycare.
Veterinary documentation is required prior to the first day of daycare and boarding.
Recommendations
We highly recommend both the Canine Influenza vaccine and Leptospirosis vaccines. Check with your veterinarian.
All Guests MUST be interviewed to insure that they play well with all of our guests.
Proof of vaccination is required prior to the first day of daycare and boarding.
We do want your pet's vaccination records faxed, emailed, or mailed to us in advance. This will allow us time to verify that all vaccinations are up to date prior to your reservation.
Fax: (508) 478-6391 
97 Millville Rd. Mendon, MA 01756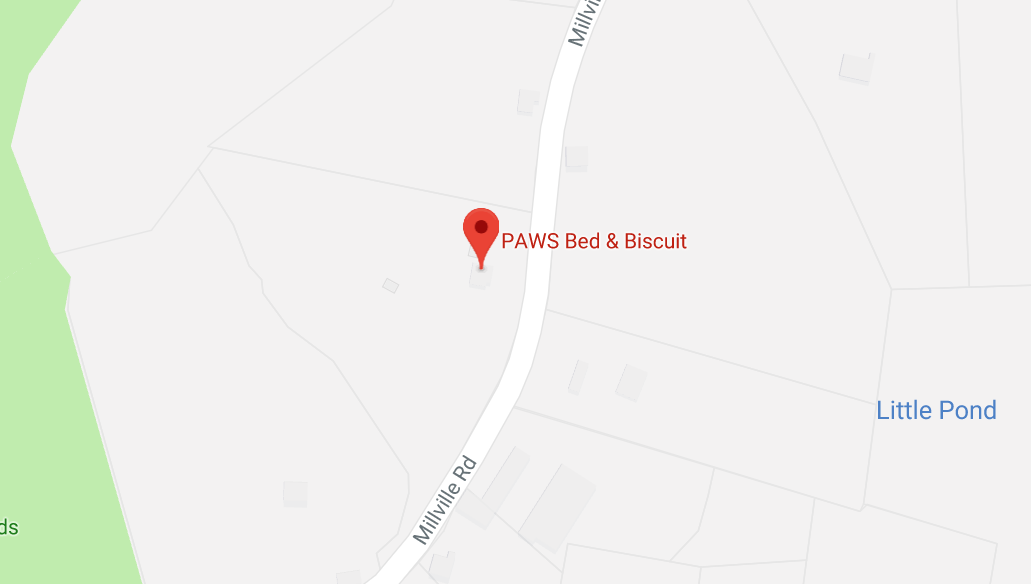 Weekday hours
Morning Drop-Off/Pick-Up Times: 7am-9am
Evening Pick Up Times: 4pm-6pm
Saturday Hours
Morning Drop-Off/Pick-Up Times: 9am-10am
Evening Pick Up Times: 4pm-5pm
Sunday Hours
Evening Pick Up Times: 5pm-6pm