"I trust that my pets will receive the best care in the hands of Daniel and Maegan. I recommend their services to everyone looking for the BEST in personal care for their pets."
-Dr. Stephen Dyer (Veterinarian)
We have been clients of Paws since 2012 when we got our oldest dog. Paws has been a great place to send the dogs for daycare and for boarding. Our younger dog has had some Issues. The staff at Paws has been great about working with us to help her adjust and resolve the issues. Highly recommend Paws. I never worry when I travel because I know they will be in good hands.
-Sue Lucien
My 9 month old went to Paws yesterday for his 1st day of doggie day care and loved it. He cried as we drove away and passed by one of his new playmates. Within an hour of getting home he was out like a light. Best night sleep!!! Dustin can't wait to go back next week. I highly recommend Paws. The country setting is so perfect and the staff/owners are welcoming and responsive to your questions and needs. So happy to have a safe place for my pup and only few minutes away from home. Thanks Paws!
-Tracy Jumper
We just returned from a week away … This was our dog's first stay at Bed and Biscuit – but it sure won't be his last! He came home happy and relaxed – no issues at all on 're-entry'. We were given an excellent report from Daniel about the week – thorough and caring. It's never easy to leave such an important member of the family behind – but, it makes it easier knowing that our dog was well cared for and tended to in ways we ourselves care for him. Thanks Daniel and all the staff at Bed and Biscuit. We'll be back!
-Marie-Elise Murphy Hay
I was so nervous to leave my 8 month old chocolate lab at any daycare, but I am a high school teacher and hate to leave her home all day. When I heard amazing reviews about PAWS Bed & Biscuit, I had to try it! My dog has been going their for about 3-4 weeks now and she seems to really love it! She was timid at first and PAWS really made her feel comfortable and ever since she has been wagging her tail to go back! I would HIGHLY recommend this daycare! I am so happy I was told to go here because it makes my life and my dogs life so much better!.
-Johanna Annunziata
A good indication of how we feel about PAWS is that we have altered vacation plans to be sure that our dog, Casey, would be able to stay with them. He has also attended doggie daycare frequently for more than a year, which means we have experienced how well PAWS operates over the entire range of weather conditions as well as gotten to see how consistent is the demeanor of the owners. The operations were excellent in good weather and bad. The owners are remarkable. They pay attention to all the care details and everything they do indicates they love animals. (And "care" includes the proper amount and type of activities dogs need to be happy.) Casey is always happy when I tell him we are going to PAWS. The running of any small business, especially one of this type, must be harder to do than most of us can imagine. This sincere accolade is to let PAWS know my wife and I appreciate their efforts as well as to let others know our very positive experience.
-Linda Thorn
Thank you so much for working with Beau and teaching us how keep up his training. We took him on vacation with us this weekend and he did great. We went to a mall and a brewery and he was so well behaved. This has been the best experience we have ever had with any of our dogs. Can't wait to take him to new places. We are now good dog owners.
-Maureen B
97 Millville Rd. Mendon, MA 01756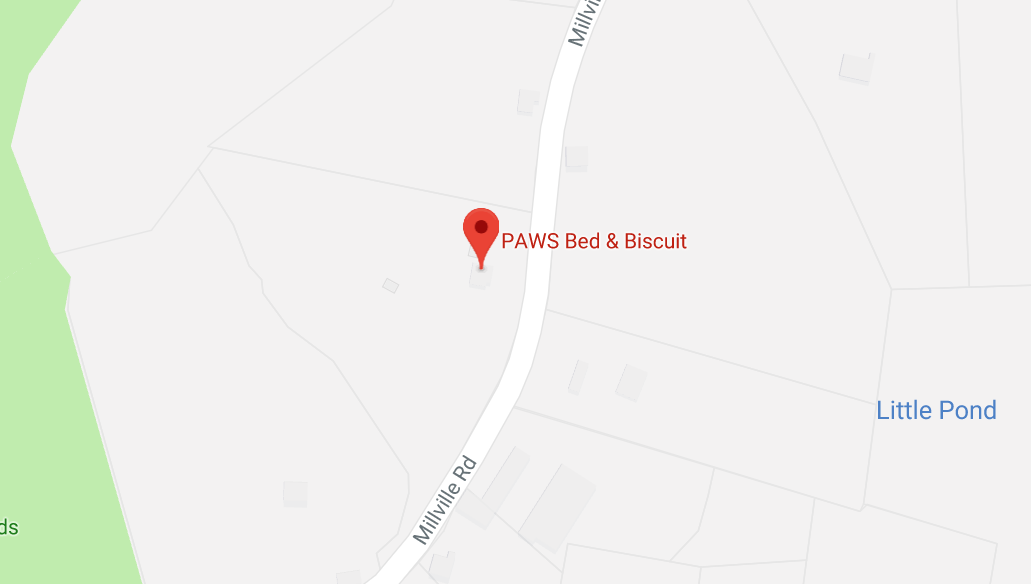 Weekday hours
Morning Drop-Off/Pick-Up Times: 7am-9am
Evening Pick Up Times: 4pm-6pm
Saturday Hours
Morning Drop-Off/Pick-Up Times: 9am-10am
Evening Pick Up Times: 4pm-5pm
Sunday Hours
Evening Pick Up Times: 5pm-6pm