Highlights
Your Furry Family member can expect a day rich with exercise and attention. Your pet's day will be filled with interaction and play with dogs of all ages. Most importantly, our Play Groups are always supervised. 
We are the little guy, a small family operation. Our maximum staff to dog ratio is 1:15.
Our Supervised Daylong Doggie Playgroups are divided to place "Furry Guests" of similar sizes and personalities together. In addition to "down time",  we provide breed specific attention during playtime. Play groups are staff supervised at ALL TIMES. Safety and fun are TOP priority!  All guests are screened for safety and comfort. We screen new boarding guests before their first boarding date. Please call to schedule your pups interview. Thanks!
Benefits
A full day of exercise and play
Loads of loving care and attention
Interaction with other dogs to build positive social behavior and increase social skills
Increased confidence and agility
Custom playgroups divided by play style and size.
Lots of personal quality time. We are family here.
Stress relief and alleviation of boredom by playing with other dogs
Promote good behavior and manners.
Peace of mind that your dog is safe and happy while you are at work
Every dog gets a full day behavioral assessment free of charge.
No guilt leaving your dog in the evening while you go out as s/he will be exhausted from a full day of play at Doggie Daycare
Baths are discounted for Doggie Daycare Membership Packages. Applies to Daycare dates only, not boarding dates. Due to the high demand, ALL BATHS MUST BE SCHEDULED IN ADVANCE. Thanks!
Path to Daycare
Assessments are "Drop off All-Day Play Day"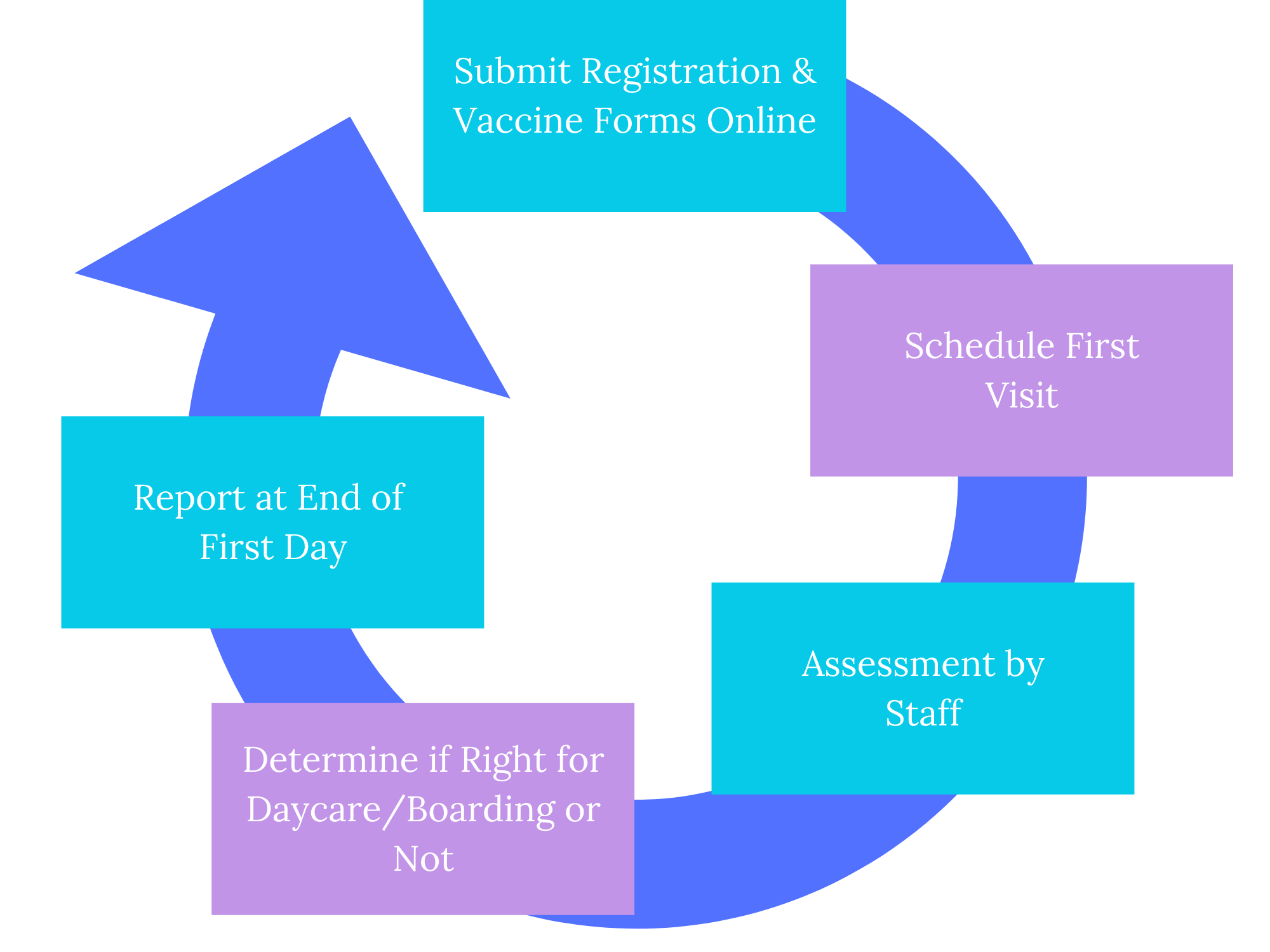 Supervision of Indoor/Outdoor Group Play
Positive reinforcement encourages good behavior and manners
Swimming in the kiddy pools, or just lounging around in the Hound Playground
Rest Anytime and Both Ice cream and Treat are available for Purchase
Socialization with other dogs
Lots of fun, love, and attention
The physical and mental health of your dog is our top priority. To ensure that all guests are living comfortably, we accept a limited number of dogs. In addition, we play soft music continuously so your dog has a pleasurable, stress free and FUN stay.
7am-9am: All furry Guests will relax in our individual suites or PLAY IN SMALL GROUPS while waiting for all their Daycare friends to arrive.
9am-4pm: Group playtime with a dedicated daycare attendant assigned to each playgroup. You may bring treats for your furry kid. For growing puppies
under 7 months old, we recommend bringing a lunch. Pups over 7 months old are not feed a lunch when here for Daycare. Also, you can purchase a frozen snack Kong from us or a PAWS Ice cream treat
4pm-6pm: Open play with furry friends until pick up.
Freshwater is always available AND YOU PUP MAY HAVE TO PEE SHORTLY AFTER LEAVING.
Your pup has been running and playing all day. They drink a lot of water when playing so they may have to pee shortly after leaving and have the added potential to drink too much when getting home.
Withhold food and water for 30 minutes and then do not allow them to sit and drink a full bowl of water all at once.
Call us if you have ANY questions or concerns
Daycare Enrollment Requirements
Our staff supervises dogs closely at all times. We encourage good behavior and manners between the dogs. As a result, dogs interact in a highly controlled and managed environment. 
Our play times are always staff supervised. However, dogs do play with their mouths and paws, so nicks and cuts can happen. If your dog gets hurt or sick and we determine a veterinarian is needed, we will call you first. If we can't get hold of you, we will act in the best interest of your dog. In this case, we pass all fees onto the owner at pick up time.
To ensure the safety of everyone in our Doggie Daycare Center family, the following criteria is required…
Requirements
We require that all boarding guests be screened for safety and comfort before their stay.
Age:

We do accept puppies, please email or call to discuss

All Female Guests 6 months or older must be spayed.

 

When they begin their first heat cycle (6 months old), they cannot attend. Once they are in heat they will need to be spayed before coming to play.

All male pups over 12 months old must be neutered.

NO excessive humpers or markers. Excessive humping causes dog fights. We do our best to promote a clean and stress-free play environment for ALL our guests. 
Vaccinations
All Guests must be current on the following vaccinations, titers are not accepted:
Vaccinations: All dogs must be current on the following vaccinations, and Veterinary documentation is required prior to the first day of day care and boarding.
Rabies -as REQUIRED by law
Distemper Booster (DHLPP)
Bordetella (Canine Cough) – every 6 months.
Yearly Stool Check required
Every 6 month Stool check and Giardia test if visiting a dog park
Please get the Canine Flu vaccine if it is available from your veterinarian
97 Millville Rd. Mendon, MA 01756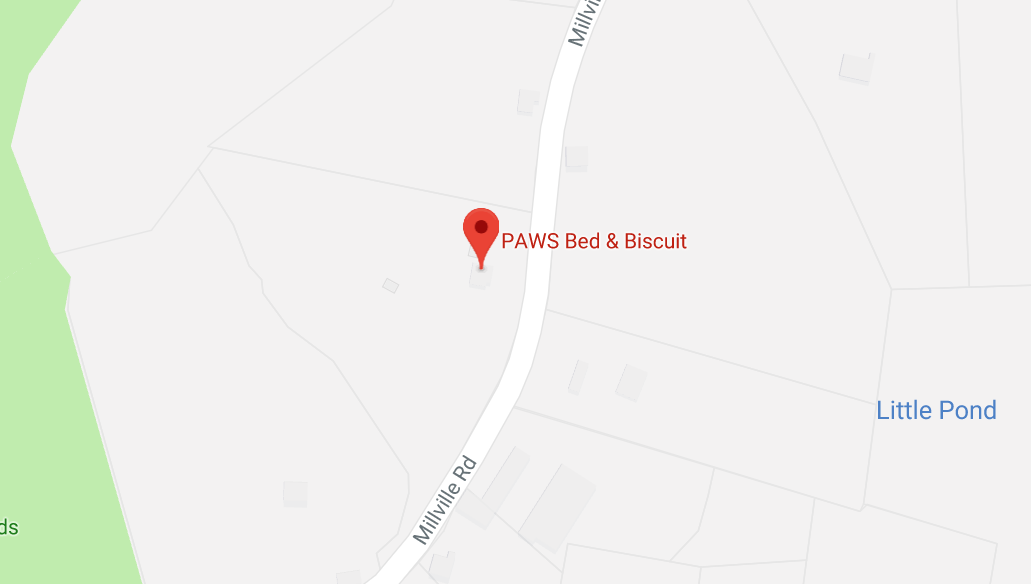 Weekday hours
Morning Drop-Off/Pick-Up Times: 7am-9am
Evening Pick Up Times: 4pm-6pm
Saturday Hours
Morning Drop-Off/Pick-Up Times: 9am-10am
Evening Pick Up Times: 4pm-5pm
Sunday Hours
Evening Pick Up Times: 5pm-6pm