PAWS Doggie Day School Training Program:
We train your dog while you work. It's that easy. Email or call for details!
Each class is tailored to your pet's individual needs.
Includes Doggie Daycare and one-on-one training classes.
This allows for both play time and training time in one day. As a result, your furry kid receives training on top of a fun day of Doggie Daycare.
Doggie Day School: $75/Day or $350 for 5 Day Package, Daycare Included
In Home Training Classes and Behavioral Consultations:
We train your dog in the comfort of your own home! Our staff will travel to your home and conduct one-on-one behavior consultations and training classes with you and your pup. We offer this personalized experience in a variety of Central MA locations.
Areas we serve include: Mendon, Uxbridge, Hopedale, Millville, Northbridge/Whitinsville and Milford.
We tailor our classes to the specific needs of your dog. This includes basic training and problem behaviors.
Initial Consultation:
$95/hour with reduced charge for the follow up appointments.
Training packages are available after the initial Consultation:
Five Visit One-On-One Private Consultation Package:   $400
Ten Visit One-On-One Private Consultation Package: $755
Training is tailored to you and your furry kids' individual needs. Please call or email for details.
PAWS Jump Start Board and Train Program:
Board your furry kid at our Doggie Chalet while they receive a jump start to their training.
To address both basic and problem behaviors, we offer one-on-one individual training. We work with
you for an additional 2 follow-up consultations. This helps train you to maintain your pups' behaviors. These two consultations are included.
This program is not available during "Holiday boarding stays". Dogs must be dog and people friendly.
To join PAWS Jump Start Board and Train Program, we require initial Consultation.
$2400 for The Two-Week program and 2 follow up Consultations
*Programs Listed Subject to Change. Discount Programs or Offers are not Valid for these programs.
Separate from The PAWS Bed & Biscuit programs or offers.
97 Millville Rd. Mendon, MA 01756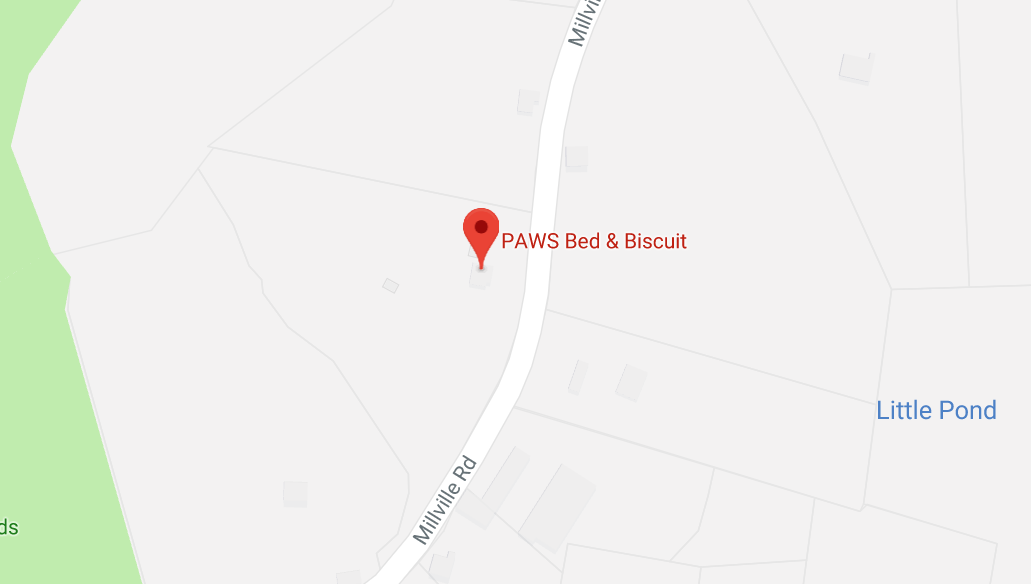 Weekday hours
Morning Drop-Off/Pick-Up Times: 7am-9am
Evening Pick Up Times: 4pm-6pm
Saturday Hours
Morning Drop-Off/Pick-Up Times: 9am-10am
Evening Pick Up Times: 4pm-5pm
Sunday Hours
Morning Drop-Off/Pick-Up Times: 10am-11am